Overview
[
]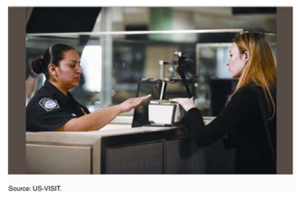 The United States Visitor and Immigrant Status Indicator Technology (US-VISIT) (superseded by the Office of Biometric Identity Management (OBIM) in 2013) collects, maintains, and shares information on foreign nationals, including biometric identifiers, acquired by several source agencies.
It is a continuum of security measures that begins overseas, at the Department of State's visa issuing posts, and continues through arrival and departure from the United States. Using biometric, such as digital, inkless fingerscans and digital photographs, the identity of visitors requiring a visa is now matched at each step to ensure that the person crossing the U.S. border is the same person who received the visa.
The US-VISIT program's goals are to:
Enhance the security of American citizens, permanent residents, and visitors
Facilitate legitimate travel and trade
Ensure the integrity of the immigration system
Safeguard the personal privacy of visitors.
For visa-waiver travelers, the capture of biometrics first occurs at the port of entry to the United States. By checking the biometrics of a traveler against its databases, US-VISIT verifies whether the traveler has previously been determined inadmissible, is a known security risk (including having outstanding wants and warrants), or has previously overstayed the terms of a visa.
These entry and exit procedures address the U.S. critical need for tighter security and ongoing commitment to facilitate travel for the millions of legitimate visitors welcomed each year to conduct business, learn, see family, or tour the country.