Citation
[
]
Federal Trade Commission Workshop, Paper, Plastic . . . or Mobile? An FTC Workshop on Mobile Payments (Mar. 8, 2013) (full-text).
Overview
[
]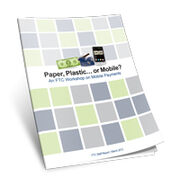 The report is based on a workshop by the same name held by the Federal Trade Commission in 2012 to examine the key issues facing consumers and companies as they adopt mobile payment services.
The mobile payments arena is growing quickly, and the report notes that mobile payment systems can provide innovative and convenient options for consumers. But the report also notes three major areas of potential concern for consumers.
First, the report encourages companies to develop clear policies on how consumers can resolve disputes arising from a fraudulent mobile payment or an unauthorized charge.
Consumers fund mobile purchases using a variety of sources, from credit cards to prepaid debit cards to charges placed on their mobile phone bills. Under current regulations, each of these funding methods has a different process for consumers to dispute unauthorized charges, with varying levels of consumer protection. This creates a potentially confusing landscape for consumers trying to decide which mobile payment system to use and how to fund these payments, the report notes.
The report also highlights the growing problem of mobile "cramming," which occurs when third parties place unauthorized charges onto consumers mobile phone bills.
Second, the report encourages industry-wide adoption of strong measures to ensure security throughout the mobile payment process. The report addresses ways sensitive financial information can be kept secure during the mobile payment process, such as through end-to-end encryption. The possibilities for encryption listed in the report cover everything from the authentication of data during the transaction to the secure storage of information on a mobile device.
Third, the report highlights the need for companies in the mobile payment sphere to practice "privacy by design," incorporating strong privacy practices, consumer choice, and transparency into their products from the outset. Doing so, the report notes, increases the likelihood of consumer trust in the mobile payment process.
The report also notes the privacy issues arising from the consolidation of consumers' personal information in the [[mobile payment] process. In a traditional credit card transaction, a merchant will have sensitive financial information about consumers, but will generally not also have their ]]contact information]] and a record of their location. Mobile payment providers also potentially have access to a much larger cache of personal information stored on the consumer's mobile device.