Jurassic World: Dominion Dominates Fandom Wikis - The Loop
Play Sound
Overview
[
]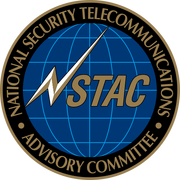 On September 13, 1982, President Ronald Reagan issued Executive Order 12382, President's National Security Telecommunications Advisory Committee, establishing the National Security Telecommunications Advisory Committee (NSTAC). Four issues provided impetus for the establishment of the NSTAC: (1) the divestiture of AT&T; (2) increased Government reliance on commercial communications; (3) potential impact of new technologies on NS/EP telecommunications; and (4) growing importance of command, control, and communications to military and disaster response modernization.
The committee — a presidentially-appointed advisory body composed of up to 30 senior executive-level representatives from communications, information technology, banking, and aerospace companies — provides the President with a unique source of NS/EP communications policy expertise. The NSTAC's goal is to develop recommendations to the President to assure vital telecommunications links through any event or crisis, and to help the U.S. Government maintain a reliable, secure, and resilient national communications posture.
Since 1982, the NSTAC has worked cooperatively with the National Communications System (NCS), an interagency consortium of Federal departments and agencies that serves as the focal point for NS/EP communications planning for any crisis or disaster. As a part of this partnership, the OMNCS provides key staff support and technical assistance to the committee. By virtue of its mandate to address NS/EP communications issues, the NSTAC's partnership with the NCS is unique in two ways: (1) it facilitates industry involvement with both the defense and civil agencies comprising the NCS; and (2) it regularly sustains and encourages interaction between industry and the NCS member departments and agencies through the National Coordinating Center (NCC), the Information Sharing and Analysis Center (ISAC), the Network Security Information Exchanges (NSIE), and the Communications Sector Coordinating Council.
Many NSTAC recommendations result in operational activities that enhance NS/EP communications and information systems. For example, in its first set of recommendations to the President, the NSTAC suggested the establishment of the NCC, an industry/Government coordination center for day-to-day operational support of NS/EP communications. In addition, the NSTAC assisted the OMNCS in developing and eventually implementing the Telecommunications Service Priority program, one of the NCS' most utilized priority service programs. Furthermore, an NSTAC recommendation resulted in the establishment of separate NSTAC and Government NSIEs, which meet regularly to address the threat of electronic intrusions and software vulnerabilities and discuss mitigation strategies to protect the Nation's critical communications and information systems.
Source
[
]
See also
[
]
External link
[
]