Citation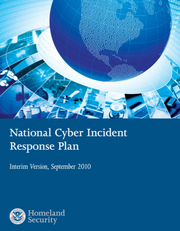 Department of Homeland Security, National Cyber Incident Response Plan (Interim Ver. Sept. 2010) (full-text).
Overview
In March 2010, the U.S. Department of Homeland Security issued a draft of the "National Cyber Incident Response Plan." The Plan describes roles, responsibilities, and actions to prepare, respond, and recover from cyber incidents.
This plan is part of the National Response Framework issued by DHS in 2004 in response to the events in the aftermath of 9/11, which presents the guiding principles that enable first responders, decision makers, and support entities nationwide to provide a unified national response to disasters and emergencies, including cybersecurity incidents.
It was updated in September 2010.