Historical background
[
]
The National Archives and Records Administration (NARA) is the nation's record keeper. It was created by statute as an independent agency in 1934. On July 1, 1949, the Federal Property and Administrative Services Act transferred the National Archives to the General Services Administration, and its name was changed to National Archives and Records Services. It attained independence again as an agency in October 1984 (effective April 1, 1985) and became known as the National Archives and Records Administration. NARA's mission is to ensure continuing access to essential documentation of the rights of American citizens and the actions of their government. NARA also publishes the Federal Register, stores classified materials, and plays a role in the declassification of these classified records.
Responsibilities
[
]
The NARA is responsible for federal records disposition. Disposition is a comprehensive term that includes both destruction and transfer of federal records to the National Archives of the United States.
NARA is also responsible for preserving access to government documents and other records of historical significance and overseeing records management throughout the federal government. NARA relies on the use of information systems to receive, process, store, and track government records.
Archivist of the United States
[
]
The Archivist of the United States is NARA's chief administrator.
Electronic records
[
]
NARA has preserved electronic records since the 1970s, but is faced with bringing in a vastly greater volume of digital material. The agency has been working on a system since 1998 to address this challenge. In 2001, the NARA responded to the challenge of preserving, managing, and providing access to electronic records by initiating the development of the Electronic Records Archives (ERA). The ERA will enable NARA to improve its services to other federal agencies, researchers and teachers.
In 2005, the agency entered into a multi-million dollar contract with a vendor to build the ERA system.[1]
IP systems
[
]
NARA depends on a number of key information systems to conduct its daily business functions and support its mission. These systems include networks, telecommunications, and specific applications. Table 2 lists examples of key NARA systems.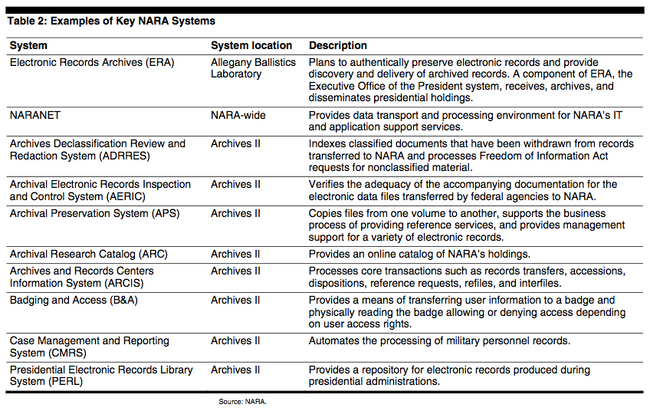 Data security
[
]
As the nation's record keeper, NARA is responsible for significant amounts of sensitive information. In 2009 NARA experienced a data breach wherein a hard drive containing data from the Clinton Administration was lost. The hard drive reportedly contained classified information and Social Security numbers of former White House staffers and visitors.
References
[
]
Source
[
]