Overview
[
]
Internet Tax Freedom Act of 1998, Title XI of the Omnibus Appropriations Act of 1998, Pub. L. No. 105-277 (Oct. 21, 1998).
Overview
[
]
The Act placed a three-year moratorium on any new taxes on Internet access fees and prohibited multiple and discriminatory taxes on electronic commerce.[1]

The Act also established the Advisory Commission on Electronic Commerce.
Extensions
[
]
Originally designed to postpone the addition of any new taxes while the Advisory Commission on Electronic Commerce studied the tax issue and reported to Congress, the moratorium was extended in 2001 for two years[3] and again in 2004, retroactively, to remain in force until November 1, 2007.[4]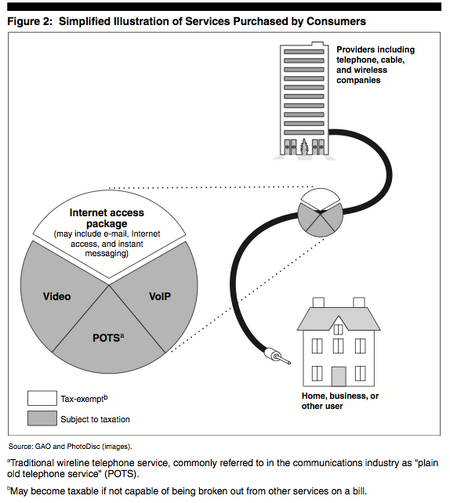 The 2001 extension made no other changes to the original act, but the 2004 Act included clarifying amendments. The 2004 Act amended language that had exempted telecommunications services from the moratorium.[5] Recognizing state and local concerns about their ability to tax voice services provided over the Internet, it also contained language allowing taxation of telephone service using Voice over Internet Protocol (VoIP).[6]
Although the 2004 amendments extended grandfathered protection generally to November 2007, grandfathering extended only to November 2005 for taxes subject to the new moratorium but not to the original moratorium.
References
[
]
See also
[
]
External resources
[
]