Citation
[
]
Government Accountability Office, In-car Location-based Services: Companies Are Taking Steps to Protect Privacy, but Some Risks May Not Be Clear to Consumers (GAO-14-81) (Dec. 6, 2013) (full-text).
Overview
[
]
The prevalence of in-car communication systems provided by auto manufacturers (called "telematics systems"), PNDs, and smart phones has brought significant opportunities for consumers to access location-based services in their cars. As in-car location-based services have become commonplace, privacy groups and policy makers have questioned whether location data collected by companies can be used for purposes beyond the provision of services, such as by data brokers who collect information to resell the information.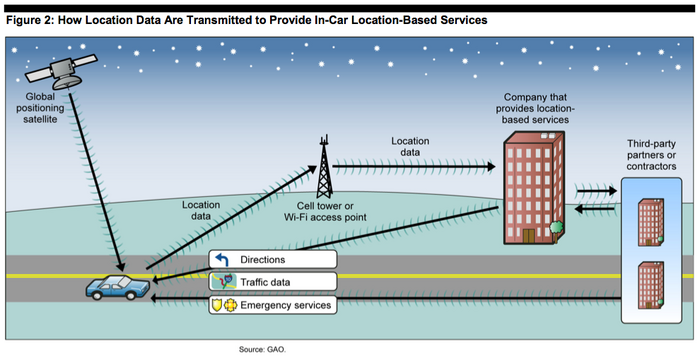 The GAO was asked to review this issue. This report addresses (1) what selected companies that provide in-car location-based services use location data for and if they share the data, and (2) how these companies' policies and reported practices align with industry-recommended privacy practices. The GAO selected a non-generalizable sample of 10 companies. The companies were selected because they represent the largest U.S. market share or because their services are widely used. The GAO examined documentation and interviewed representatives from each company regarding their privacy practices in effect in 2013 and compared those practices to industry recommended privacy practices.