Definition
[
]
An IT shared service is
| | | |
| --- | --- | --- |
| " | [a]n information technology function that is provided for consumption by multiple organizations within or between Federal Agencies.[1] | " |
Overview
[
]
There are three general categories of IT shared services: commodity, support, and mission; which are delivered through cloud-based or legacy infrastructures, as is shown in Figure 3.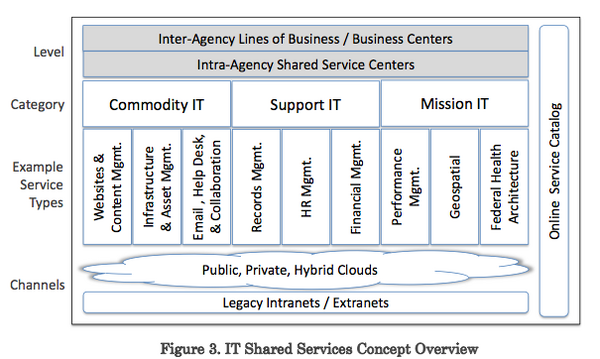 Participants
[
]
The basic participants in an IT shared service are: Managing partner, Supplier and Customers as shown in Figure 4.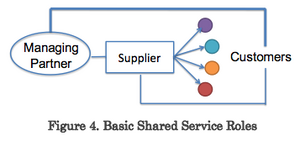 Managing Partner. The "Managing Partner" establishes and maintains an IT shared service with approval by agency leadership for intra-agency services, and also by the Office of Management and Budget (OMB) for inter-agency services. The Managing Partner organization, often referred to as the Program Management Office (PMO), develops, implements, and maintains financial and service models as well as contracts with Customers and Suppliers using strategic sourcing vehicles whenever practicable. The Managing Partner PMO is responsible for the success of the IT shared service, and reports using metrics developed by the Federal Agency for its own intra-agency IT shared services, and by the Federal CIO Council's Shared Services Subcommittee for inter-agency lines of business (LOB)s. Managing Partners are also responsible for maintaining contracts with Customer agencies that allow the Customer agency to terminate the contract if specified levels of service are not maintained.
Customer. The "Customer" is the Federal Agency or sub-organization that contracts with and pays a Managing Partner to receive an IT shared service. The Customer organization may be required to interact with a Supplier for the coordination of day-to-day service issues. The Managing Partner handles major contract issues and resolves escalation items with Suppliers.
Supplier. The "Supplier" is a government or commercial organization that provides the actual IT shared service to Customers. Managing Partners contract with Suppliers using Federal-wide contract vehicles and strategic sourcing concepts whenever practicable. Statements of Work with Service Level Agreements are maintained between the Managing Partner and Suppliers that include metrics to track the quality of service to Customers, and list charges/expenditures.
References
[
]
Source
[
]
See also
[
]