Overview
[
]
On March 11, 2002, President Bush unveiled the Homeland Security Advisory System (HSAS) as a tool to improve coordination and communication among all levels of government, the private sector, and the American public in the fight against terrorism.
The HSAS is designed to guide the DHS protective measures when specific information to a particular sector or geographic region is received. It combines threat information with vulnerability assessments and provides communications to public safety officials and the public.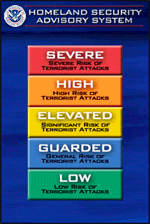 Homeland Security Threat Advisories contain actionable information about an incident involving, or a threat targeting, critical national networks or infrastructures or key assets.
Homeland Security Information Bulletins communicate information of interest to the nation's critical infrastructures that do not meet the timeliness, specificity, or significance thresholds of warning messages.
Color-coded Threat Level System is used to communicate with public safety officials and the public at-large through a threat-based, color-coded system so that protective measures can be implemented to reduce the likelihood or impact of an attack.
This system was established in Homeland Security Presidential Directive 3.