Citation
[
]
NIST, Standards for Security Categorization of Federal Information and Information Systems (FIPS 199) (Feb. 2004) (full-text).
Overview
[
]
FIPS 199 defines the security categories, security objectives, and impact levels to which NIST Special Publication 800-60 maps information types. FIPS 199 establishes security categories based on the magnitude of harm expected to result from compromises rather than on the results of an assessment that includes an attempt to determine the probability of compromise. FIPS 199 also describes the context of use for this guideline.
FIPS 199 is the mandatory standard to be used by all federal agencies to categorize all information and information systems collected or maintained by or on behalf of each agency based on the objectives of providing appropriate levels of information security according to impact. Security categorization standards for information and information systems provide a common framework and understanding for expressing security that, for the federal government, promotes: (i) effective management and oversight of information security programs, including the coordination of information security efforts throughout the civilian, national security, emergency preparedness, homeland security, and law enforcement communities; and (ii) consistent reporting to the Office of Management and Budget (OMB) and Congress on the adequacy and effectiveness of information security policies, procedures, and practices.
Security categories
[
]
FIPS 199 establishes security categories for both information[1] and information systems. The security categories are based on the potential impact on an organization should certain events occur. The potential impacts could jeopardize the information and information systems needed by the organization to accomplish its assigned mission, protect its assets, fulfill its legal responsibilities, maintain its day-to-day functions, and protect individuals. Security categories are to be used in conjunction with vulnerability and threat information in assessing the risk to an organization.
FIPS 199 establishes three potential levels of impact (low, moderate, and high) relevant to securing federal information and information systems for each of three stated security objectives (confidentiality, integrity, and availability).
Impact assessment
[
]
FIPS 199 defines three levels of potential impact on organizations or individuals should there be a breach of security (i.e., a loss of confidentiality, integrity, or availability). The application of these definitions must take place within the context of each organization and the overall national interest. Table 2 provides FIPS 199 potential impact definitions.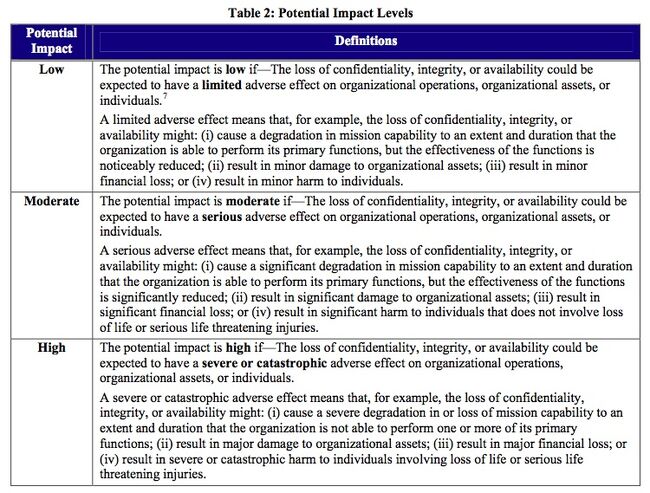 In FIPS 199, the security category of an information type can be associated with both user information and system information and can be applicable to information in either electronic or non-electronic form. It is also used as input in considering the appropriate security category for a system.
References
[
]
↑ Information is categorized according to its information type. An information type is a specific category of information (e.g., privacy, medical, proprietary, financial, investigative, contractor sensitive, security management) defined by an organization or, in some instances, by a specific law, Executive Order, directive, policy, or regulation.