Citation
[
]
Cyberspace Solarium Commission, Cyberspace Solarium Commission - Final Report (Mar. 11, 2020) (full-text).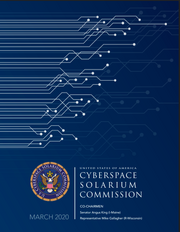 Overview
[
]
The reality is that we are dangerously insecure in cyberspace. Your entire life — your paycheck, your health care, your electricity — increasingly relies on networks of digital devices that store, process, and analyze data. These networks are vulnerable, if not already compromised. Our country has lost hundreds of billions of dollars to nation-state-sponsored intellectual property theft using cyber espionage. A major cyberattack on the nation's critical infrastructure and economic system would create chaos and lasting damage exceeding that wreaked by fires in California, floods in the Midwest, and hurricanes in the Southeast.
To prevent this from happening, this report outlines a new cyber strategy and provides more than 75 recommendations for action across the public and private sectors.