Citation
[
]
U.S. Copyright Office, Compendium of U.S. Copyright Office Practices, Third Edition (Sept. 29, 2017) (full-text).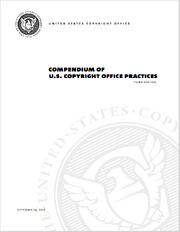 Overview
[
]
This is the first major revision of the Compendium in more than two decades.[1] the Third Edition presents more than 1200 pages of administrative practices and sets the stage for a number of long-term improvements in registration and recordation policy.
The Compendium documents and explains the many technical requirements, regulations, and legal interpretations of the U.S. Copyright Office with a primary focus on the registration of copyright claims, documentation of copyright ownership, and recordation of copyright documents, including assignments and licenses. It describes the wide range of services that the Office provides for searching, accessing, and retrieving information located in its extensive collection of copyright records and the associated fees for these services. The Compendium provides guidance regarding the contents and scope of particular registrations and records. And it seeks to educate applicants about a number of common mistakes, such as providing incorrect, ambiguous, or insufficient information, or making overbroad claims of authorship.
The Compendium does not cover every principle of copyright law or detail every aspect of the Office's administrative practices. The Office may, in exceptional circumstances, depart from its normal practices to ensure an outcome that is most appropriate.
The Compendium does not override any existing statute or regulation. The policies and practices set forth in the Compendium do not in themselves have the force and effect of law and are not binding upon the Register of Copyrights or U.S. Copyright Office staff. However, the Compendium does explain the legal rationale and determinations of the U.S. Copyright Office, where applicable, including circumstances where there is no controlling judicial authority.
References
[
]