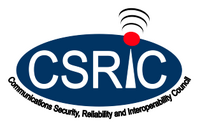 Overview
[
]
The FCC's Communications Security, Reliability and Interoperability Council (CSRIC) was established as a Federal Advisory Committee designed to provide recommendations to the Federal Communications Commission (FCC) regarding best practices and actions the Commission can take to ensure optimal security, reliability, and interoperability of communications systems, including telecommunications, media and public safety communications systems. CSRIC created eleven working groups, each with its own area of responsibility. The working groups develop recommendations through industry cooperation and voluntary agreements.

Activities
[
]
The Council has issued reports with voluntary recommendations to Internet service providers related to
The Council has also issued best practices, through voluntary agreements with industry partners, related to a variety of topics, including cybersecurity and network security.[4]
References
[
]
Source
[
]
See also
[
]