Definitions
[
]
A cloud consumer (also called a cloud service consumer) is
Overview
[
]
A cloud consumer browses the service catalog from a cloud provider, requests the appropriate service, sets up service contracts with the cloud provider, and uses the service. The cloud consumer may be billed for the service provisioned, and needs to arrange payments accordingly.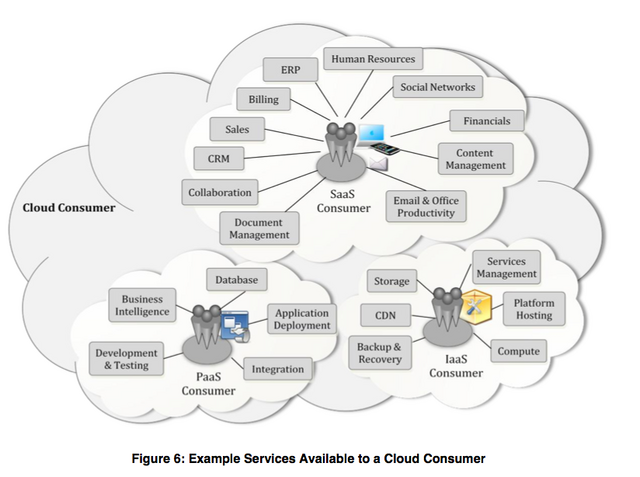 Cloud consumers use Service-Level Agreements (SLAs) for specifying the technical performance requirements to be fulfilled by a cloud provider. SLAs can cover terms regarding the quality of service, security, and remedies for performance failures. A cloud provider may also list in the SLAs a set of restrictions or limitations, and obligations that cloud consumers must accept. In a mature market environment, a cloud consumer can freely choose a cloud provider with better pricing and more favorable terms. Typically a cloud provider's public pricing policy and SLAs are nonnegotiable, although a cloud consumer who expects to have heavy usage might be able to negotiate for better contracts.
SaaS
[
]
SaaS applications are made accessible via a network to the SaaS consumers. The consumers of SaaS can be organizations that provide their members with access to software applications, end users who directly use software applications, or software application administrators who configure applications for end users. SaaS consumers can be billed based on the number of end users, the time of use, the network bandwidth consumed, the amount of data stored, or the duration of stored data. [SaaS = Software as a Service]
PaaS
[
]
PaaS consumers employ the tools and execution resources provided by cloud providers to develop, test, deploy, and manage the operation of PaaS applications hosted in a cloud environment. PaaS consumers can be application developers who design and implement application software, application testers who run and test applications in a cloud-based environment, application deployers who publish applications into the cloud, and application administrators who configure, monitor, and manage applications deployed in a cloud. PaaS consumers can be billed according to the number of PaaS users, the processing, storage, and network resources consumed by the PaaS application, and the duration of the platform usage. [PaaS = Platform as a Service]
IaaS
[
]
IaaS clouds provide cloud consumers with virtual computers, network-accessible storage, network infrastructure components, and other fundamental computing resources, on which IaaS consumers can deploy and run arbitrary software. IaaS can be used by system developers, system administrators, and IT managers who are interested in creating, installing, monitoring, and managing services and applications deployed in an IaaS cloud. IaaS consumers can be billed according to the amount or duration of the resources consumed, such as CPU hours used by virtual computers, volume and duration of data stored, network bandwidth consumed, or the number of IP addresses used for certain intervals.
References
[
]
Source
[
]