Overview
[
]
Germany
[
]
The CIO Council is made up of the chief information officers from each German federal ministry, and the Federal IT Management Group. The Commissioner for Information Technology chairs this group and works in close cooperation with them.
United States
[
]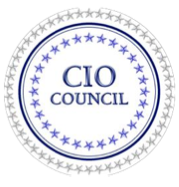 The Chief Information Officers Council (CIOC, CIO Council or Federal CIO Council), an organization of CIOs of the largest 28 federal agencies and two representatives of the smaller agencies, seeks to address IT issues on a governmentwide basis. It serves as the principal interagency forum for improving practices in the design, modernization, use, sharing, and performance of Federal Government agency information resources. The Council was established by Executive Order 13011, "Federal Information Technology," on July 16, 1996 (now revoked) to implement the Clinger-Cohen Act. The Council's existence was codified into law by Congress in the E-Government Act of 2002.
The Council's role includes developing recommendations for information technology management policies, procedures, and standards; identifying opportunities to share information resources; and assessing and addressing the needs of the Federal Government's IT workforce.
The CIO Council is one element of an interagency support structure established to achieve information resource management objectives delineated in legislation including the E-Government Act of 2002, Government Paperwork Elimination Act, Paperwork Reduction Act of 1995, Government Performance and Results Act of 1993, and the Information Technology Management Reform Act of 1996.
The Chair of the CIO Council is the Deputy Director for Management for the Office of Management and Budget (OMB) and the Vice Chair is elected by the CIO Council from its membership. Membership on the Council is comprised of CIOs and Deputy CIOs from most Federal executive agencies.
Activities: The CIO Council has engaged in the following activities to improve awareness of security issues and methods for addressing them:
Committees and subcommittees. The following are the existing committees and subcommittees of the CIO Council:
Source
[
]